SmartGlass International is the dedicated manufacturer of Electronically Switchable Glass. Well- known as: privacy glass, switchable glass, intelligent glass  and electric glass. These technologically advanced glass products are fast breaking from being niche to becoming mainstream for use particularly in the commercial, retail, security, healthcare and hospitality sectors.
 The main products are:
Privacy Smartglass
Solar Smartglass
Black-out Smartglass
SmartGlass International is an award winning company claiming such accolades as the royal institute of British architects sponsored 100% Detail innovative product award.
With the intention of concentrating its products and markets SmartGlass International only produces electronically switchable glass products and through continued research and development projects is expanding its range of products to meet the needs of growing specialist markets in architecture, transport and medical fields.  SmartGlass International has invested heavily in plant and machinery and now has the capacity to fulfil large orders on short lead times.  Each piece of SmartGlass is bespoke made to meet and exceed the client's needs.
Smartglass Benefits:
Through continued investment Smartglass International has expanded to become World leader in the manufacture of electronically controlled smart glass products for the architectural market.
The use of intelligent smart glass provides added value and increased flexibility in new building design, improves working environments and building ergonomics, saves energy, and increases the well being of occupants.  SmartGlass International is dedicated to bringing environmentally friendly building products and unique design capabilities to their customers.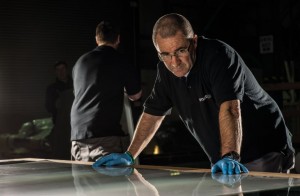 Privacy Smartglass – privacy at the flick of a switch
Privacy SmartGlass is used for privacy purposes allowing instant privacy at the flick of a switch.  Using a minute electrical current, users can immediately switch the Privacy SmartGlass from clear to private (opaque) and vice versa. It is easy to install and uses a minute electrical current.  Various configurations can be supplied including colour tinted, fire rated, double glazed, curved and shaped.
Where can I use Smartglass?
SmartGlass is currently used in partition screens, windows, roof-lights and doors, projection screens, security & teller screens but as architects and designers explore the boundaries and turn conventional perspectives of glass on their head it is expected that the markets will continue to grow and expand into new and innovative uses.
Check our portfolio here.