Smartglass International are pleased to announced that the installation of their switchable glass at the Ernest Park Goodge Street Development went off without a hitch this morning.
Working closely with our partners DR Services, the crane and vans were all in position at 5.30am for the delicate operation of lifting the large 230kg switchable glass panel up 4 floors and onto the roof. Once safely brought through the roof doors, this fire-rated Smartglass panel was installed into the specially made frames, wired up and commissioned all before the rush hour got fully underway!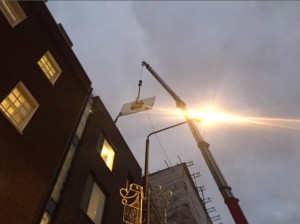 The client, Ernest Park, are extremely pleased with their signature piece and glad everything went so well this morning.
For more information about this switchable glass project, or to talk to us about how we can give your development the edge, please get in touch at our London Office on 020 7340 8707 or info@smartglassinternational.com