This amazing structure is the King Abdul Aziz Centre for World Culture, currently nearing completion in the heart of the Saudi Desert.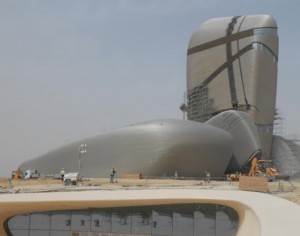 Commissioned by Saudi Aramco to acknowledge the massive contribution that oil has made to lives of the citizens of the Kingdom, the KACWC will house libraries, children's learning spaces, exhibition space and the country's first cinema.
In collaboration with Austrian façade specialists Seele, Smartglass International has specified and manufactured a myriad of multi-sided Switchable Glass panels that form an integral part of the building's façade.
Smartglass International created a bespoke high performance toughened laminate using Guardian HPN50/32 to work in conjunction with our Switchable Privacy Glass, which protects it from the effects of the fierce desert sun. We have also manufactured switchable panels for the Great Hall entrance, seen in the foreground, which sets the tone for the rest of the remarkable building.
To fully appreciate the scale of this truly landmark project watch this great video: https://www.youtube.com/watch. For more information on our work, browse our previous projects.