Solar Control on Demand
SPD-SmartGlass can be manually or automatically "tuned" to precisely control the amount of light, glare and heat passing through a window.  While glass is a favored product for use in building facades; glare, solar heat gain and UV exposure are problematic and can often make the use of glass impractical resulting in the need to invest in expensive solar shading devices.  Glass facades using patented SPD solar control technology reduce the need for air conditioning during the summer months and heating during winter.
Principle
When the power supply is switched on, the rod shaped suspended particle molecules align, light passes through and the SPD SmartGlass panel clears.  SPD SmartGlass protect from damaging UV when on or off.
When the power supply is switched off the rod shaped suspended particle molecules are randomly oriented blocking light and the SPD SmartGlass becomes dark blocking up to 99.4% of light.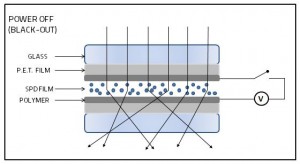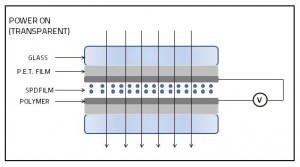 Applications & Features
External Glazing
Fixed or casement windows and doors
Solar Control Shading screens
Sliding/folding doors
Balustrades and balconies
Create comfortable environments in offices, bedrooms, sunrooms and conservatories
Can be single, double or triple-glazed including low E glass and gas filling, resulting in improved thermal performance and reduced solar heat gain and unparalleled U Values
Roof-Lights
Skylights
Roof-lights – Fixed or opening
Commercial
Security and Safety
Protect staff and interiors from the effects of harmful UV rays.
Reduced harmful solar heat gain.
Control solar glare.
Added security and safety due to toughened laminated glass construction.
View Projects
Advantages of SPD Smart Glass
In an effort to reduce glare the windows of many commercial buildings are permanently tinted, therefore requiring more lighting inside the building than that which is optimally needed.  Natural day lighting, which can be regulated using SPD SmartGlassTM products, has been shown to improve health and well being, and thus its regulation is considered by many to have a strong influence on one's attitude and productivity.
Instant and precise control of light
Energy Savings on cooling & lighting costs
Eco friendly, reduce building carbon emissions
Elimination of the need for expensive window dressings
Wide working temperature range from -20⁰c to +70°c – Ideal for exterior applications
Ambient temperature control via solar control
Aesthetically pleasing
Hygienic low maintenance material
Enhanced corporate image
Reduced fading of carpets, furniture and protect valuable artwork
High UV stability
High contrast at any viewing angle and any illumination level
Long life – tested to in excess of 100,000 cycles
Configurations Available
Maximum Size: 1,000 * 2,800 mm
Minimum Size: 200 * 300 mm
Thickness: Various from 8.8mm for laminates and from 20mm for Double Glazed units
Colour tints: Blue
Glass types: Gas filled double glazed units (external windows)
Processing: Double Glazed, Drilled Holes, Curved, Shaped, Triple Glazed
SPD Smart Glass Control Methods
Wall switch
Remote control
Movement sensor
Light sensor
Timer
Available Shapes