Instant Privacy on Demand
Principle
When the electrical supply is switched on, the liquid crystal molecules align and incident light passes through and the LC SmartGlass panel instantly clears.
When the power is switched off the liquid crystal molecules are randomly oriented scattering light and the LC SmartGlass becomes opaque (private).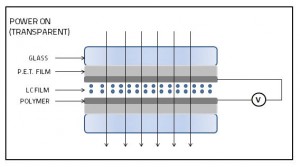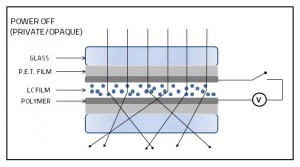 Sectors
Hospitality - Hotel room privacy screen, bathroom / bedroom privacy screen, external windows, doors, conference centre windows & roof-lights, bar & restaurant screens, toilet cubicles, balustrades and balconies.
Commercial - Office & boardroom partition screens, doors, sliding/folding doors, windows, roof-lights.
Healthcare - Fire rated hospital doors, moveable privacy screens, and X-Ray protection screens.
Instant and precise privacy control
Efficient use of space in the built environment
Exceptional optical qualities that reduce glare and eye strain
Hygienic and low maintenance
Enhance corporate image
Reduce uncomfortable "Gold fish bowl" feeling when working in high-density office buildings
High contrast for use as rear projection screen
Long life – tested to in excess of 1,000,000 cycles
Configurations available
Maximum Size: 1405 * 3200 mm
Minimum Size: 200 * 300 mm
Thickness: Various from 9.5mm to multi layer laminates
Colour tints: Clear, Blue, Grey, Green, Bronze
Glass types: Clear Float, Mirror, Optiwhite, Colour Tinted, Fire rated, X-Ray, Tempered
Processing: Drilled Holes, Polished Edges, Curved, Shaped, Double Glazed
Controls
Wall switch
Remote control
Movement sensor
Timer
Door lock
Available Shapes