LC SmartGlass technology offers Architects and Interior Designers a completely new way to define commercial office space.
Switchable LC SmartGlass is the ideal solution for creating a bright open space as it not only lets more light into the area but also gives the impression of increased space throughout the entire room.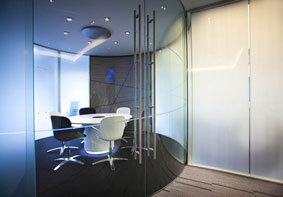 When LC SmartGlass is switched 'on' it  looks like ordinary clear glass in an office boardroom, but when switched 'off', the smart glass will turn opaque immediately providing instant privacy for when meetings are taking place. LC SmartGlass also acts as a high resolution rear projection screen ideal for boardroom presentations creating a greater sense of space and minimalist style.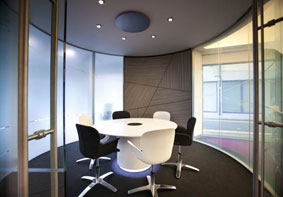 Light is becoming a very important design element for home and office buildings. Studies show that when people live and work in a well lit environment, they are happier, healthier and more productive.
Today, day lighting is an international trend. Natural light lifts spirits, makes spaces appear larger and lessens demands on electricity, an important factor in today's energy – conscious world. Natural light also has been shown to reduce eyestrain, increase productivity and even decrease absenteeism in the workplace. People function better in light filled environments.
                                           Lighting for all workers has long been a concern in many European countries. These ideas are making their ways westwards, reinforced by data showing that the rewards can extend beyond aesthetics to affect the company's productivity and bottom line.
LC SmartGlass when switched "On" allows 76% light transmission & when switched "Off" allows 67%.